How on earth did I get all this cr...stuff??
Better yet, how will I put it back into my case? I've already had to go to a larger one, and even with my medium size case stuffed, too, I still have things left over. I suppose I'll have to cave and buy a rolling carry on case, as my usual large bag I use won't work.
I imagine it is the plethora of candy I have (Malteasers, HRH!), the number of food products I can't get home I love to eat (if only I could bring bacon!), and the, um, 20 sets of new lingerie I bought.
I can't describe what The Investment will have, as he reads this, but, it fills one third of my big case. I just hope he likes it all.
Maybe, if I shift the underwear to the smaller case, the robotic bat and stuffed animals for grandkids to the place that left....
The airline is going to love me. Not.
Our Neville Fact
Every Tuesday, the Captain has a Fancy Dress Party in the main dining room. Margaret has decided she and Neville will dress in the fashion of the cultural area they are visiting. She looks stunning in her off the shoulder Grecian gown, her still heavy hair wrapped in braids and long curls around her head. Neville grouses the entire way down, wearing this only because it makes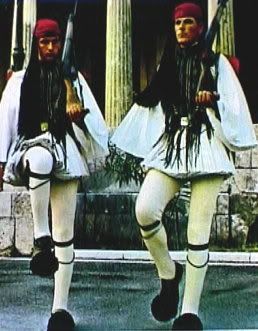 Margaret happy, but, feeling a right plonker in his version of the Greek Army dress uniform. Staveros thinks he looks divine!